The Ukrainians Polina, Sofiia and Yuliia can continue studying in Witten
Ukrainian students are now enrolled at Witten/Herdecke University through the Erasmus+ exchange programme.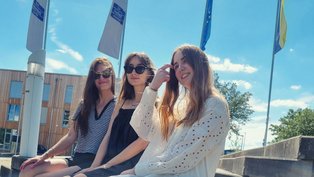 Polina, Sofiia and Yuliia, three students from Ukraine, are now enrolled at Witten/Herdecke University (UW/H). The young women were in their last Bachelor's semester at Taras Shevchenko National University of Kyiv when they came to Witten in April 2022. Since then, all three are enrolled in a Master's programme at their home university and can earn their first credits at UW/H by participating in courses from the Master's programme "Strategy & Organisation" and German courses. "Of course, we hope that a safe return to Ukraine and the continuation of their studies will be possible in the near future. In the meantime, we are very happy to have them with us at Witten/Herdecke University and we will support them as long as necessary and possible," says Eike Tauch from the International Office (IO) at UW/H.
Fast integration through the International Office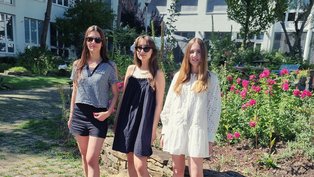 As the central point of contact for all those who want to study abroad or - as in this case - come to Witten from abroad to study, the IO has helped the Ukrainian women find a firm footing in Witten. In the summer semester of 2022, the three "only" had guest student status, which was easier to grant but comes with some disadvantages such as restricted access to certain digital information and teaching materials. "Many lecturers and fellow students have compensated for this with their commitment. In particular, the initiative 'Humanitarian Aid for Ukraine' played an important role," praises Julia Welker from the IO. For example, they helped them find accommodation. In addition, the Ukrainian students had the opportunity to participate in the buddy programme organised by the Erasmus Student Network (ESN) Witten/Herdecke initiative, where they came into contact with both local students and other internationals.
The Erasmus+ programme makes it possible
In the winter semester of 2022/23, the three students were able to replace their guest student status and are now enrolled as incoming students at UW/H. In addition, they can receive financial support through the Erasmus+ programme of the European Union. This is a novelty: normally, only outgoing students can be funded via a corresponding key action in connection with Erasmus+, i.e. UW/H students who go abroad. However, in view of the special circumstances, it is currently also possible to fund Ukrainian incoming students who have had to flee their home country. Fortunately, the university's application for additional funds was approved and all three students are receiving financial support. As the situation in Ukraine is currently still too uncertain, Polina, Sofiia and Yuliia are planning to complete another semester at UW/H.
Kommentare
Keine Kommentare vorhanden.